StarAngel Bengals is a TICA Outstanding Cattery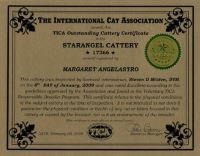 Champion StarAngel Zuriel
RW QGC STARANGEL GABRIEL
Championship in first weekend out in 2 years at Central Jersey Cat Fanciers in Parsippany. 
Taking Eight first place wins with BOB and  2 finals.  750 points in one weekend. 
Zuri  is a  beautiful son of Gabriel.  More pictures on the website STUD page. 
Thank you, Barbara Ray: 
7th Best all Breed Alter
 3rd Best Speciality Alter
StarAngel Zuriel
Many Thanks to the judges who saw the beauty & quality of Zuriel (aka Zuri) at 
Central Jersey Cat Fanciers, Parsippany, New Jersey 1/6 thru 1/8, 2017. 
Barbara Ray: 6th Best All Breed Shorthair Kitten 
Nikki Crandall-Seibert: 8th Best Shorthair Kitten
KingsMark Dream Catcher of StarAngel
Introducing our KingsMark Dream Catcher of StarAngel at his First Show, taking Finals over 74 all breed kittens at the MA Regional Show in Lancaster, PA 2015
Thank you Judge Debbie Lopeman for this great win
Thank you Judge Edith Mary Smith for Catcher big win here with my Granddaughter Lauren
Ch. StarAngel Renissance Silver (aka Renni)
Champion Drinkwater Ariella
StarAngel Girl on Fire (aka Gurley)