Starangel Tywin
Reference: Tywin, son of Gabriel x Sephora is the most amazing male kitten I purchased from Starangel Bengals. Tywin is the  most loving, playful, and behaved kitten anyone could ever encounter. His coat is absolutely beautiful, his eyes are stunning.  Tywin can shop with me in stores, and sits on my shoulders, while I walk about.  The breeder has been informative through the process. Always there as my mentor.  It was an easy process to purchase Tywin, I couldn't be happier. What an amazing job the breeder has done.  I couldn't be more happy.
                                    *************************************************************************************************
 
Starangel Nova
Reference:  We welcomed home our wonderful Nova from Sephora and Gabriel in Spring 2023, and he has been such a little joy in our life.  He's so well behaved, loving and playful.  He's the best thing we could ever realized! 
We reached out through Peggy's pet application, and have been in contact with her ever since.    She kept in constant contact through email.  Peggy included many descriptions for us to learn from as new cat parents and what to expect.

Not only is his pattern and coloring beautiful, he has an amazing personality and can be very vocal.  Nova is great with our senior dog Mocha too.  They are becoming fast friends.  We couldn't have imagined for him to be this wonderful and for him to adapt so quickly.  He has a great appetite and used the litter box on first day he was here.  Thanks to Peggy's guidance on food and litter brands, treats and toys.  

Nova was very healthy, but Peggy checked in after Vet visits to make certain we were comfortable and everything was on track for his appointments.  Peggy is very experienced in the level of care and attention that she provides to us and we're appreciative that she is so knowledgeable about the Bengal breed ,and in general, as there are many specifics to be aware.
Nova is living happily with Britancy, Travis, Mocha and Nova

*******************************************************************************************
 
 
Starangel Leonardo
Silver Son of Sephora x Gabriel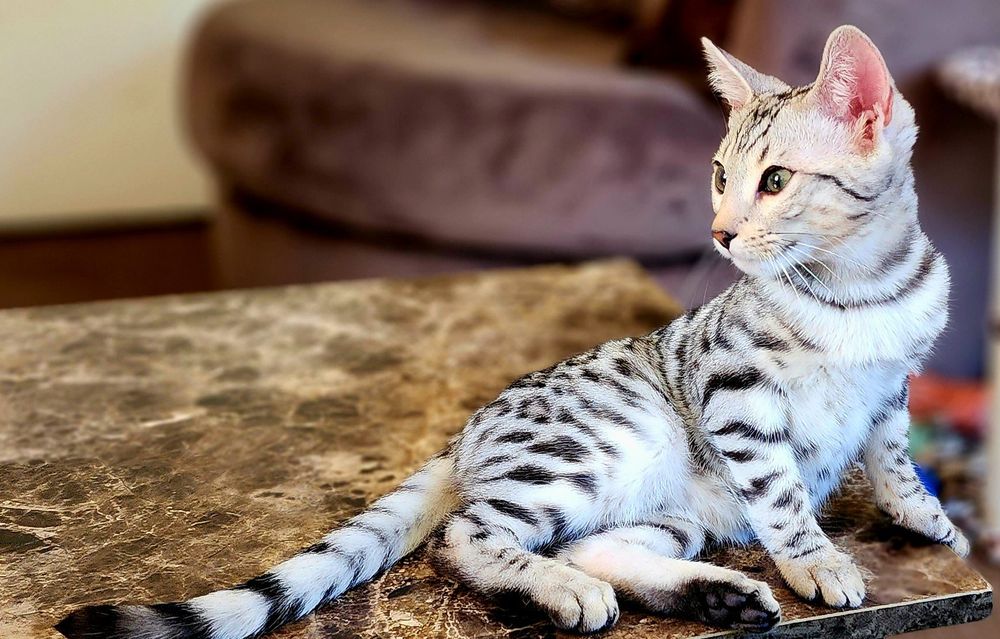 Reference:  Leo is a great addition to our family. He's beautiful, funny, fearless and loveable.  Following Peggy's instructions
on introducing to my older Bengal Teddy was successful.  Teddy is also from Starangel Bengals, and is now 5 years old.  Both boys became fast friends.  They are now bonded, and inseparable. 
See Picture of Teddy, below in ALUMNI page.  Both boys are living happily with Dawn & family and Teddy.
************************************************************************************************
Starangel Nala and Luna
Litter Mates to Parents, Sephora and Gabriel
See Reference Below Pictures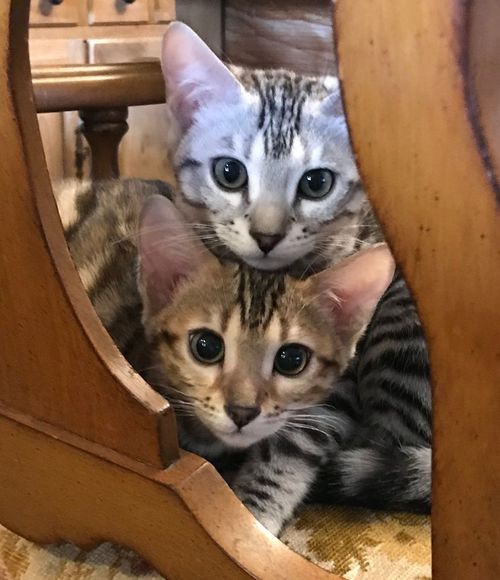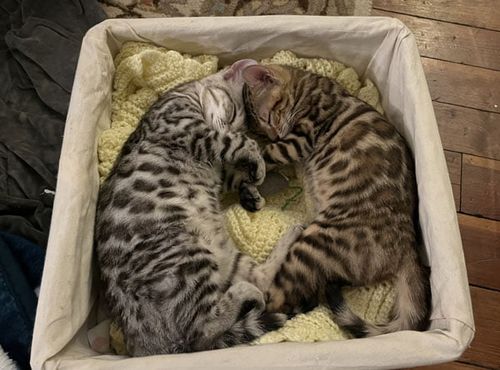 REFERENCES.......
     We are just thrilled to have Nala and Luna as part of our family now. We were hesitatnt to work through a breeder at first, but we knew we wanted the right cats for our family and we had great instincts about Peggy.  From the first time we made contact, I could tell how much she loves the cats she cares for and we had faith that she would be able to help us with anything we needed along the way.  I appreciated that Peggy offered very specific suggestions for evrything from food to toys.  As the pet world has changed so much since my husband and I had cats in college. 
     Peggy assured me that her Bengals would be fantastic companions for my active, young children and both Nala and Luna have definitely lived up to that.  They are patient and loving with both our daughters and always up for a snuggle or some playtime.  They are continuing to bring us endless joy as we watch them grow.  We enjoy them in every way and are so thankful for Peggy for this cherished gift.                         Lori, John and family, North Jersey
SUPREME STARANGEL SYLPHRENA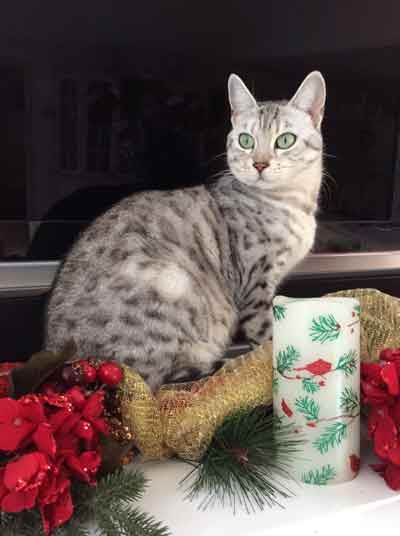 Congratulations!! 


Supreme 
10/21/18 Nauticat, Quebec, Canada 
Thank you, Judge Laurie Patton
RW Supreme StarAngel Sylphrena 2017 MidAtlantic Regional Winner, 19th BEST ALTER
StarAngel Sylphrena & Yukine 
MORE CONGRATULATIONS!!! 
********************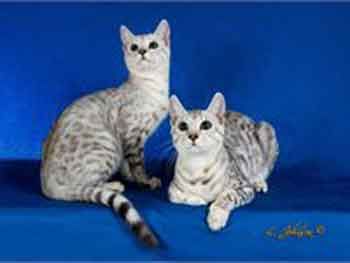 QUAD GRAND CHAMPION STARANGEL YUKINE
StarAngel Ch. Zyana x Ch.  StarAngel Renissance Silver 
Both Bengal sold as Pets, spayed before 6 months of age. The sisters are out of Champion StarAngel Zyana x Ch. StarAngel Renaissnce Silver (stud page).  The girls are lovely platinum silver females. Ann (owner) took them out for the first time as adults to the Central Jersey Cat Fanciers, Parsippany Summer Show as Alters.  Sylphrena (on the left in picture)  took a 2nd place Final, her first time out as an adult and became Champion in the weekend.   Ann, their owner, said "Showing is fun, even with Alters"!  
Sylphrena received her QUAD at Central Jersey Cat Fanciers, Parsippany, NJ  Jan 6 - Jan 8 2017. 
***Sly is a 2017 Regional Winner QGC 19th BEST ALTER*** 
Yukine got her Championship at the Coastal City Cat Club, Brentwood, NY 3/11/17
"

Above are Silver Beauties, litter sisters, Yukine & Sylphrena being spoiled. From the time we saw their weekly photos, till when we were picking up two beautifully socialized kittens. They have perfect litter box manners! It is very clear that Margaret cares deeply about each kitten that leaves her immaculate cattery. She offers on going advice and support and remains a great resource to a new cat owner. Everyone who sees my silver girls are struck by their beauty, especially when the sun shines on their glittered coats to make them sparkle like ice crystals. Their antics make us laugh everyday and their sweet temperaments make them treasured members of our family." - Ann from North Jersey
STARANGEL RIKKI
 Handsome Rikki is our adopted, stunning platinum silver male.
  Son of  Sephora x Gabriel in his new home enjoying the good life 
with Nancy & family in Ocean City, NJ. 

BELOW
Stunning StarAngel Rikki
 
Rikki
StarAngel Nalani
Daughter of RW StarAngel Gabriel x Lawntonmews Petra
 REFERENCE:
We could not be happier with our new baby girl, Nalani. She has been such a perfect addition to our family.  Peggy at StarAngel Bengals is a wonderful breeder and it was so nie to have such a great communication from someone with so many years of knowledge and the desire to help even after the transation is done and you are home with your kitten.  Peggy still emails often to check in on Nalani's progress and to offer advice or help answe questions.  This is definitely not a mill where sheis just pumping out litters to make fast cash.  You can tell that she does it simply for the love of the breed and to provide high quality kittens.  I highly recommend StaraAngel Bengals to anyone looking to adopt a Bengal Kitten!  
Tricia Kalita, Egg Harbor Township, NJ
************************ 
StarAngel Kona
Lovely Kona Gold
daughter of 
RW QGC StarAngel Gabriel x Ch. StarAngel Girl on Fire (Gurly)
Living happily with Beverly in Connecticut 
Won the 2019 TICA Calendar Contest, with Full Page in January 2019
***************************************** 
StarAngel Kruger & Friend Rio
Reference for Kruger and Rio
After discussing wanting to get a bengal for over a year, the pandemic created the perfect opportunity to actually be home to care for and train one. So I started researching local breeders in NJ/NY on the TICA website. As I looked at each website of potential breeders, I was delighted to find the many wonderful references that StarAngel had and the beautiful kittens that they produced. So I completed the application with the anxiety of applying to a new job and was surprised when Peggy responded quickly to let me know that she had kittens due within a couple of weeks. 
Throughout the process, Peggy was quick to respond to my questions, sent updated pics of my little guy and kept me posted about his personality and temperament as he got older. She assured me he was exactly what I was looking for. After bringing him home and working through the adjustment period, I can honestly say Peggy was right, he's perfect. He's funny, cuddly, playful and loud. He is so smart that we have already started training him with simple commands like "come" and "kiss".  Peggy has continued to check on him, provided guidance on introducing him to our dog and was so helpful during those crucial first days after bringing him home. 
Peggy fills her cattery with love. One of the sweetest things was how she had a whispered conversation with Kruger and kissed him goodbye before putting him in his carrier. It made me realize that there was a lot of love given to my baby boy before I got him. So if you are looking for a beautiful bengal and a breeder focused more on finding loving homes than making money then I would highly recommend StarAngel Bengal. Thank you, Peggy. This crazy, silly, sweet and loving little guy has already brought us so much joy and we are grateful for all you've done.

James & Scott, Jersey City, NJ
******************************************************************** 
StarAngel Leo
StarAngel Leo is precious son of RW QGC StarAngel Gabriel x Lawntonmews Silva.  Little Leon is pole dancing and is a gentle, creme base with black markings.  He is a special little boy.  
REFERENCE:
"I looked at a lot of different catteries and only Peggy at StarAngel Bengals asked me to fill out an application form!  A lot of other places were about to sell me a Bengal for money withut knowing anything about me!  Peggy's interest in me as a potential owner of one of her fur babies, showed me that she really cares about the well-being of the Bengals she breeds and this is why I chose StarAngel Bengals!
Leo is the sweetest, most playful cat I could have ever asked for!  Please follow him on instagram !purrfect.cat.Leo to watch him grown!   Megan, Phila, PA
********************************* 
StarAngel Sienna and Luna
Enjoying a happy, healthy, wonderful life with Courtney in Jersey City, NJ

**************************************
StarAngel Tyrion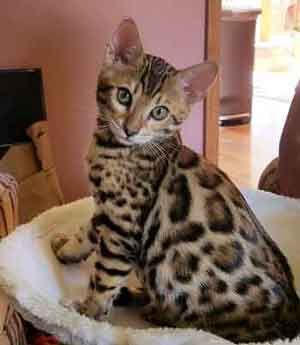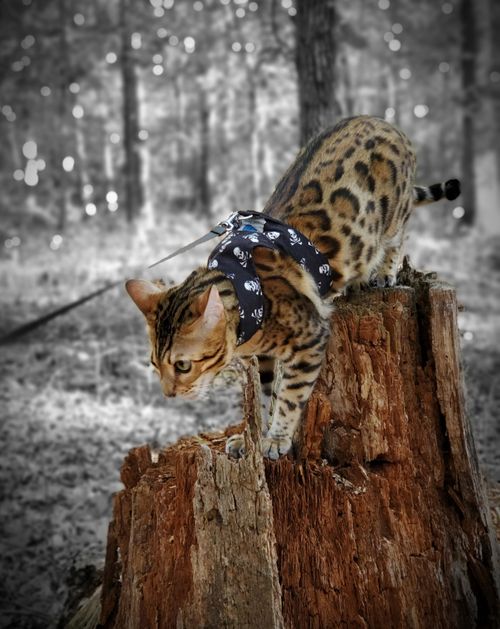 Son of RW QGC Starangel x Kingsmark Poetry
"

We started our research directly from the TICA website. We wanted a reputable breeder with an established and recognized cattery. I researched the catteries in my area and decided on Starangel. Here's why- the website was current and appeared to be updated quite regularly. Also, through the wealth of information and the pictures, it was clear that Starangel was much more than a business. The application made it obvious that Peggy wants only the best homes for her babies. Once the process began, Peggy kept me updated. The day we picked up Tyrion, Peggy greeted us with a smile and took the time to allow me to review the contract, ask questions, and get a real feel for who she is. The cattery was clean and well kept. The cats seemed quite happy. Peggy's experience and expertise make her cattery stand out, and when you add in her personal touches, and interest after purchase you know you did well. Thank you Peggy. " - Anne from South Jersey
****************************************
Starangel Sabeera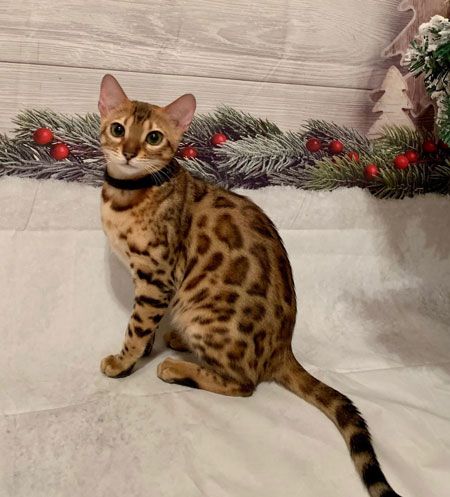 Reference:
Throughout my life, I've wanted to have a Bengal Cat and I decided to give myself one for my 21st birthday.  I came across a lot of scammers, and after looking at many websites, and messaging many breeders around the states, I finally found StarAngel Bengals. 

I completed the pet application and sent to Peggywho emailed me back immediately.  She told me she had a golden female available.  I had a lot of questions and Peggy didn't hesitate to answer all of the questions and even gve me a call after my deposit.  She was so sweeet and nice and informed me so much about having a Bengal, the proper way of taking care of one.  I could tell she was experienced and cared for her bengals becase she taught me so much abut caring for one.  She sent me pictures of the kitten and I instantly fell in love with her and told Peggy I was interested.  From then on, Peggy would send pictures, weekly of my kitten, would always respond immediately to my questions and emails, sent me everything I would need before havin my new kitten.   I as  amazed on how much knowledge Peggy had about the Bengals, and I valued that a reat deal.

My kitten's name is Sabeera and she is the greatest and most precious kitten I ever had.  At  first the kitten was shy, Peggy assured me that was temporary and within a few days she'd come around.  Peggy alays checked up on me to make sure Sabeera was fine. I appreciated that so much!    Not only was Peggy helping prior to purchase, she was still there guiding me with Sabeera.  After all she did for me, I felt Peggy of StarAngel Bengals was the best breeder ever and loves her Bengals.  Saeera is loving, sweet, playful and a fast Learner.!   I am satisfied with all of the help Peggy provided to assure me that Sabeera would be happy and healthy.  I thhank Peggy for all she has done for both Sabeera and myself.  I highly recommend SarAngel Bengals 100% as the Best Cattery ever!  Follow Sabeera on Instagram and Tik Tok:@sabeera.the.Bengal.    Sabeera is living happily with Sharlana in New York.
StarAngel Valentine & MaxSon
Stunning Valentine & MaxSon living a wonderful life 
Reference:
Peggy, you breed Bengals well. I love my two Bengals that I received from you. They are so smart and so clean.  They are my pride and joy; along with my son! 
The Brophy family, Rhode Island, NY
**************************************
StarAngel Legend and Kenny
Sons of QGC StarAngel Gabriel x Sephora
Beautiful Silver Seal Lynx Point Legend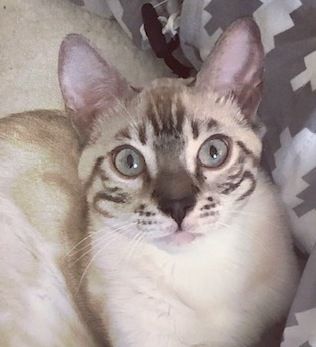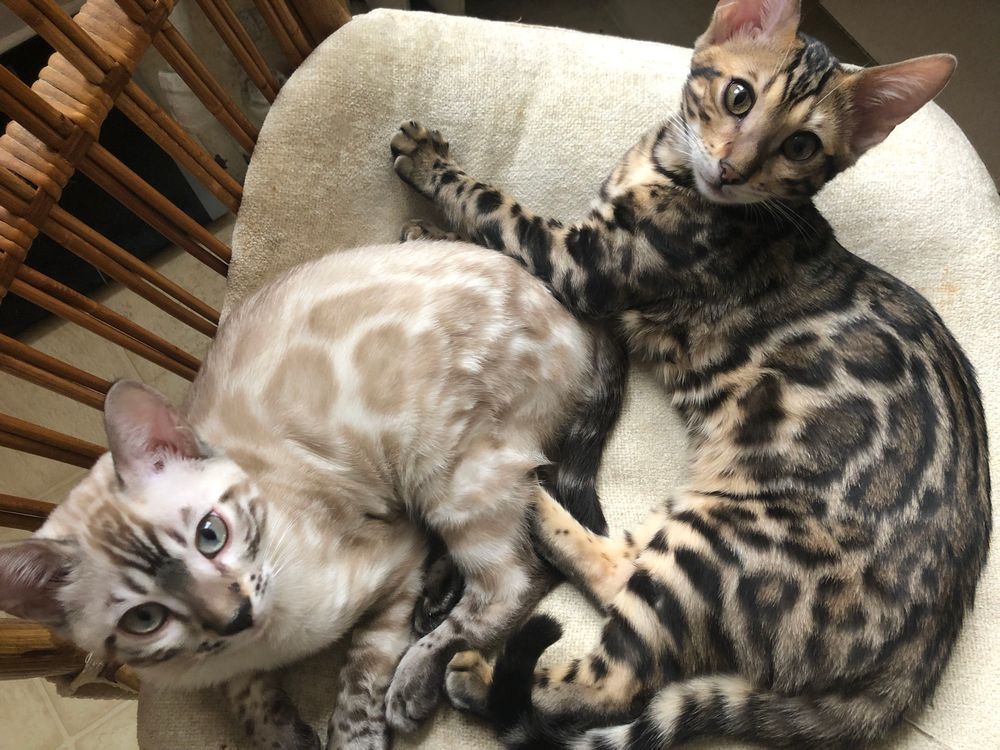 StarAngel Sunami Knight (aka) Sunni
StarAngels Zanzibar & Senna